World's First
Functional
Mushroom
Gummies
Made With Real Mushrooms
Helps Prevent
Cognitive Decline
Ease Joint Discomfort &
Improve Mobility
Support Heart Health
& Lower Blood Pressure
Complete Formula
For Overall Health
2023 Sale SAVE UP TO 45% OFF
Order Now
Big Savings on Bundles and Subscriptions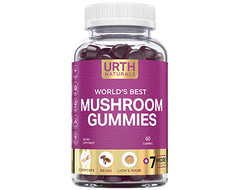 only$34.99 each
Total: $34.99 $44.95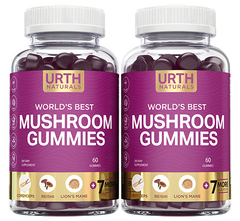 only$29.99 each
Total: $59.98 $89.98
only$25.99 each
Total: $103.96 $179.92
---
Complete Mushroom Formula
for Overall Health
Why Gummies?
We have been chewing our food for all history, and capsules were invented just 100 years ago.
When we chew our food, the digestion process begins in the mouth with saliva breaking down the food before we even swallow.
The more we chew, the more nutrients we get.
That's why we skipped the boring dry capsules and packed 10 of nature's most studied and understood mushrooms into a delicious gummy.
Lion's Mane
Lion's Mane is the only superfood known to regrow nerve cells. Daily Lion's Mane helps with memory, stress management, anxiety, and overall well-being.
Cordyceps
Used in Chinese medicine for thousands of years. It's known to enhance energy levels, improve cognitive performance, athletic performance, and is thought to have aphrodisiac properties.
Chaga
Chaga reduces inflammation, may prevent disease, and may help regulate blood sugar and cholesterol. It is also full of polysaccharides to support strong immune function.
Turkey Tail
Not only is Turkey Tail an antioxidant powerhouse, it has powerful immune-boosting properties. Turkey Tail contains prebiotics which act like superfood for good bacteria in the gut.
Reishi
Also known as the queen of mushrooms, she is known to have powerful immune-boosting properties. Reishi is an adaptogen, which means it helps the body adapt to environmental stressors.
Maitake
Maitake is packed with polysaccharides, triterpenes, and bioactive chemicals to supercharge your immune system and give you a natural energy boost.
4 More Mushrooms
Urth's special blend contains Shiitake, Royal Sun Mushroom, Black Fungus Mushroom, and White button mushroom. Added for their antioxidants and to enhance the potency of our mushroom blend
Frequently Asked Questions
What's the shipping cost?
We offer FREE shipping for orders above $50.
When will I receive my Urth?
Your order will be processed and shipped within two working days.
What's your return policy?
If for any reason you're not happy with your purchase, you can send back to us hassle-free for a full refund.
What's the Urth Guarantee?
We're so confident you'll love Urth that if for any reason you don't, we'll give you your money back. No questions asked.
Where is Urth manufactured?
Urth is proudly produced in an FDA-registered facility right here in New Jersey, USA.
What do Urth gummies smell
and taste like?
Each gummy has a delicious raspberry smell and taste.
Can I track my order?
Of course! Once your product is on its way, we'll send you your shipping confirmation which will include a tracking link to track your package.
What Our Customers Have To Say
100% MONEY BACK GUARANTEE
100% MONEY BACK GUARANTEE
If for any reason, you don't absolutely love Urth, we will give you a full 100% hassle-free refund.
Citations
1) Anti-Inflammatory Effects of Ethanol Extract of Lion's Mane Medicinal Mushroom, Hericium erinaceus (Agaricomycetes), in Mice with Ulcerative Colitis Qin M;Geng Y;Lu Z;Xu H;Shi JS;Xu X;Xu ZH; https://pubmed.ncbi.nlm.nih.gov/27481156/
2) Trametes versicolor extract modifies human fecal microbiota composition in vitro DS; https://pubmed.ncbi.nlm.nih.gov/23435630/
3) Effects of polysaccharopeptide from Trametes versicolor and amoxicillin on the gut microbiome of healthy volunteers: a randomized clinical trial Pallav K;Dowd SE;Villafuerte J;Yang X;Kabbani T;Hansen J;Dennis M;Leffler DA;Newburg DS;Kelly CP; https://pubmed.ncbi.nlm.nih.gov/25006989/
4) Cellular and molecular mechanisms of immuno-modulation by Ganoderma lucidum ZB; https://pubmed.ncbi.nlm.nih.gov/16230843/
5) The effects of two different ganoderma species (Lingzhi) on gene expression in human monocytic THP-1 cells CF; https://pubmed.ncbi.nlm.nih.gov/20574926/
6) Neurohealth Properties of Hericium erinaceus Mycelia Enriched with Erinacines Li et al. https://www.ncbi.nlm.nih.gov/pmc/articles/PMC5987239/
7) Effect of Polysaccharide from Cordyceps militaris (Ascomycetes) on Physical Fatigue Induced by Forced Swimming YF; https://pubmed.ncbi.nlm.nih.gov/28094746/
8) Free radicals, antioxidants and functional foods: Impact on human health Lobo et al. https://www.ncbi.nlm.nih.gov/pmc/articles/PMC3249911/